LTFS tape NAS: A great idea stuck in a niche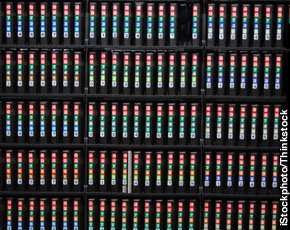 Two years ago, IBM released the specification for the Linear TapeFile System (LTFS). The standard is open, enables drag-and-drop compatibility with desktop filesystems and applications, and works with standard Linear Tape-Open (LTO)tape drives.

It removes the need for off-tape catalogues found in existing tapelibraries, usually proprietary, that record the location of files which tape they are on andwhere on the tape they are to be found.

With traditional tape standards it is difficult to switch to new backup software withouttransferring all backed up data to a new catalogue via a long, manual process. This inhibits theability to select a better product from another supplier, should one emerge.

By contrast, LTFS creates a kind of tapeNAS. The LTFS specification defines the format and layout of the tape, and it does this on thetape. The LTFS catalogue or index is written in Extensible Markup Language (XML) andstored along the length of the media, not at one end of the tape on a separate partition from thedata. This means the index can be modified as needed, without affecting the data partition, andwithout having to rewind.
See full story on computerweekly.com